Our impact
Cross-sectional, collective impact. Commitment to social change. Community-based problem-solving. Concern for our future and the public good. Love of family and time in the outdoors together.
These are the values that have guided the growth of LBC Action since our adventure began in the spring of 2018. We set out to empower positive impact and to foster common ground among unconventional allies across the country who are rising up to meet what Dr. Martin Luther King called the fierce urgency of now. Today, we do that through our three service lines: Organizational Development; Policy & Advocacy, and Partnering & Positioning. Here are some of the ways we are working with our partners to improve outcomes and outlooks for all people and the planet we share together.
Organizational Development
The Center for Native American Youth at The Aspen Institute
The Center for Native American Youth (CNAY) is a national advocacy organization working to improve the health, safety, and overall well-being of Native American youth ages 24 and under. In early 2018, CNAY was at an inflection point, staffed by young professionals devoted to the mission, but operating without the full resources, structure, and strategies required for sustainable impact. LBC Action partnered with CNAY to assess the challenges and opportunities for short, medium, and long-term success. Indeed, client and vendor became true partners, bound by a mission to create platforms for change for emerging young leaders determined to overcome health, environmental, and educational disparities facing tribal communities.
Over the course of a year, LBC Action helped CNAY move from a lateral, loosely-built structure to an organizational model that gave staff members clear roles (and goals), increasing productivity among the entire team and freeing up the Executive Director to expand capacity through national partnerships, game-changing fundraising, and a stronger identity within the Aspen Institute. Crucially, LBC Action was able to offer insights and frameworks that fit the distinct needs and personality of CNAY. Today CNAY is a more mature organization, still motivated by passion, but better poised than ever to give voice to millions of people in tribal communities from coast to coast. Learn more about CNAY in the 2018 State of Native Youth Report (prepared with support from LBC Action).
The Nature Project is a non-profit focused on providing underserved youth with the opportunity to experience nature. Co-founded by former NFL athlete Cooper Helfet and ecologist Charles Post, the Nature Project engages athletes and other role models as ambassadors to the outdoors for youth across the country. LBC Action partnered with Helfet and Post to help grow their passion project into an established organization with formal 501(c)(3) status, a board development plan, a budget and fundraising strategy, and national partnerships. The Nature Project is now poised to serve thousands of school-age children every year near their home communities.
No Child Left Inside Coalition
Washington State has a national reputation for scenic beauty and outdoor recreation opportunities. The No Child Left Inside Coalition was created to ensure that young people - especially those in underserved communities-have access to high-quality programs that enable them to learn in and about the great outdoors. The 12 members of the NCLI Coalition had a clear common goal: persuading policymakers to include $1.5 million in the state budget for outdoor education and recreation programming. However, they lacked a unifying force to allow them to speak with one voice and the expertise needed to lobby effectively in Olympia. LBC Action created the NCLI coalition to empower them to organize and advocate, building consensus among the partners and engaging an experienced professional lobbyist, Craig Engelking, an LBC Action Team member. In a challenging budget year, LBC Action and the NCLI Coalition celebrated a major victory for Washington State's youth: new funding for a grant program that will continue to positively impact 20,000 children in communities across the state in 2020 and 2021.
California Outdoor Engagement Coalition
Through cross-sector partnerships, the California Outdoor Engagement Coalition expands transformational experiences in the outdoors for youth who reflect the overall demographics of California. LBC Action partnered with the California Outdoor Engagement Coalition to help put equity and diversity at the center of a bill to create a State Outdoor Recreation Office. Drawing on decades of experience working with diverse audiences, LBC Action identified the author of the bill, helped build consensus around language for the bill, and served as a conduit between the bill's author and the California Outdoor Engagement Coalition. This spring, the bill (AB-1111) passed unanimously through the California Assembly.
Outdoor Industry Association
The Outdoor Industry Association is a membership-driven trade organization for the outdoor industry. Founded in 1989, OIA is a force for the industry in recreation and trade policy, sustainable business innovation, and increasing outdoor participation. LBC Action partnered with OIA on an effort to pass a bill that would create a State Recreation Office in Minnesota, a model implemented in ten other states, including Washington State. OIA engaged LBC Action to facilitate communications and advocacy between lobby groups and the public and find common ground between stakeholders in government, nonprofit, and business sectors.
Partnerships & Positioning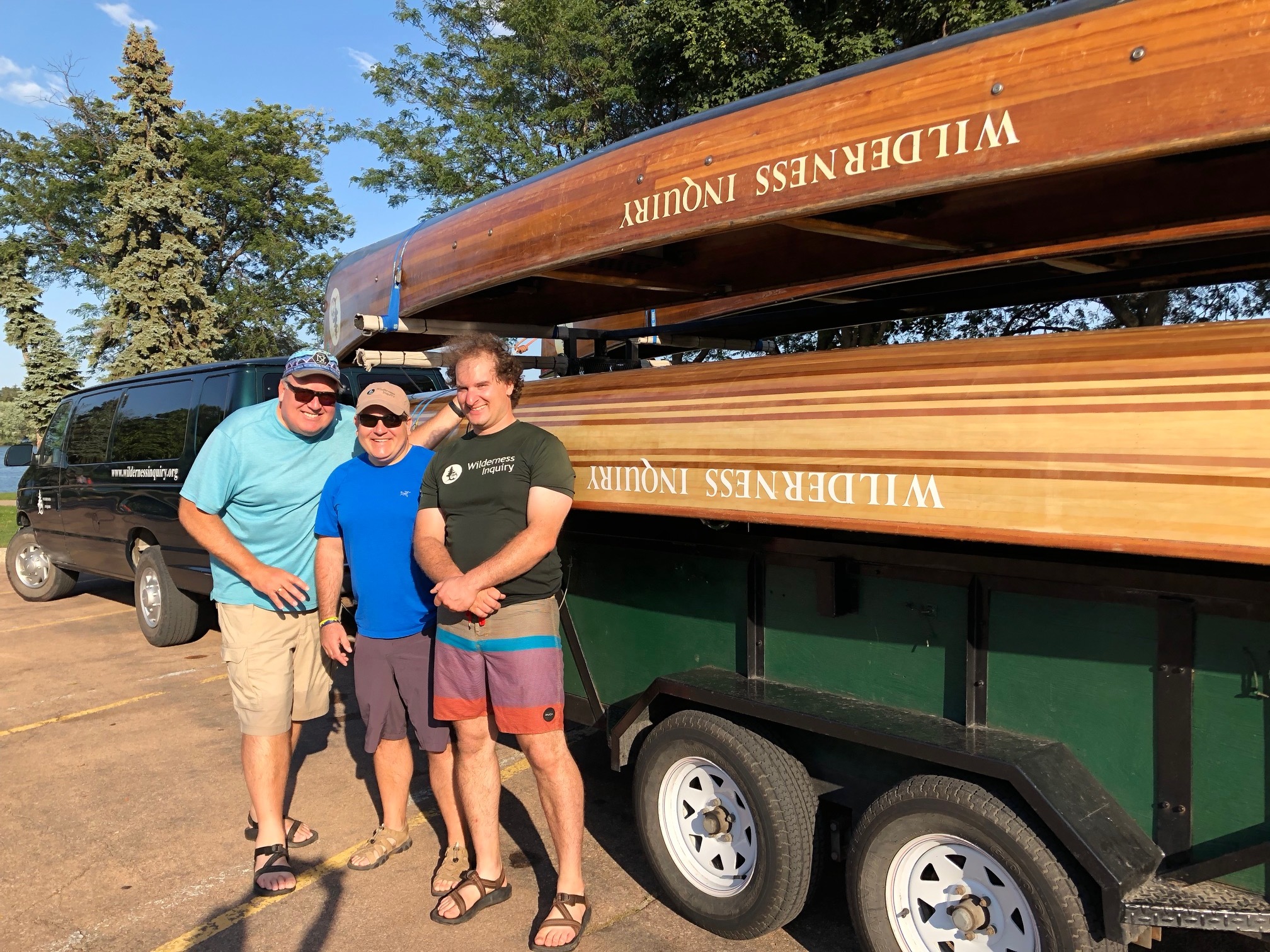 Canoemobile is a program of Wilderness Inquiry, a national organization that provides outdoor adventures in North America and around the world for adults, families, and people of all ages, backgrounds and abilities. Beginning in 2008, Wilderness Inquiry grew Canoemobile from a pilot program operating in the Twin Cities area to a thriving learning platform serving schools in communities nationwide. As a kindred spirit in the outdoor engagement movement, LBC Action partnered with Wilderness Inquiry to drive next-level expansion of Canoemobile into a coast-to-coast program with the capacity to provide lifelong experiences for hundreds of thousands of participants every year. Together, Wilderness Inquiry and LBC Action created a campaign to energize the partners and sponsors needed to bring Canoemobile to new markets. Keys to the plan included a detailed case statement articulating the sector's first cost-effective strategy to scale the number of young Americans exploring and caring for the outdoors; a 50th Anniversary celebration featuring keynote speaker Congresswoman Betty McCollum (D-MN), and a robust media plan targeting local and national outlets.
Fresh Tracks was launched in 2016 in response to a call from President Obama for programs that would connect more young Americans to the outdoors. Since then, more than 150 young adults from urban, rural, and tribal communities have taken part in cross-cultural leadership trainings, which are springboards to civic action in communities across the country. LBC Action is proud to be a founding partner of Fresh Tracks. After the successful pilot, LBC Action helped find a permanent home for Fresh Tracks at the Center for Native American Youth at the Aspen Institute, where it continues to thrive as a platform for mobilizing a youth-driven movement to create positive social change. LBC Action has also led communications for Fresh Tracks, creating a full website, developing and executing narrative strategy, and producing two documentary-style videos.
Children & Nature Network
The Children & Nature Network was created to encourage and support the people and organizations working to reconnect children with nature. The organization is the international leader in providing access to the latest news and research in the field and a peer-to-peer network of researchers and individuals, educators and organizations dedicated to children's health and well-being. It also has engaged hundreds of young diverse nature-smart leaders through the development of its Natural Leaders program
The Children & Nature Network engaged LBC Action to foster strategic partnerships centered on policy and nontraditional collaborations, leading to joint efforts with Meridian Institute and two programs of the Aspen Institute, the Opportunity Youth Forum and the Center for Native American Youth.
Last fall, LBC Action facilitated the Children & Nature Network's annual board meeting, where senior leadership and other stakeholders gathered to create a new theory of change to position the organization for future impact. LBC Action also facilitated policy work at the state and federal level and has been the conduit for a decade-long relationship with REI that has helped to empower hundreds of young diverse leaders through outdoor engagement.